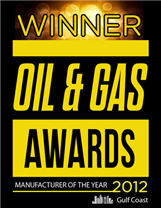 Thank you for your support!

Enviro Voraxial Technology Wins the Oil & Gas Awards Manufacturer of the Year for the Gulf Coast Region in 2012.


Newsletter
Press release
Oil & Gas Awards



Oil Water Separator Offshore on an Oil Rig: Watch Cleanup Test Results with Voraxial® Separator
---
Pressure, Flow and Energy Excellence:




Scaleable technology - size up or down
No Pressure Drop - provides a pressure increase
High "G" force, low energy
High flow, small footprint, non-clogging
More Benefits:




Treats a wide range of flows, even slugging flows
High performance over a wide concentration range without any adjustments
High performance over a wide flow range without any adjustments
Operates with low or high inlet pressure
Gas slugging does not effect separation performance
Low shear impeller – oils are not emulsified
Non-clogging – open impeller
Variable speeds to optimize separation
Patented technology



Enviro Voraxial Technology, Inc.
Stock Symbol: EVTN
EVTN is a Fort Lauderdale, Florida based CleanTech company that developed and manufactures the Voraxial® Separator, arguably the world's most efficient, high volume, bulk fluid and fluid/solid separation technology.
(1) The dark line is the concentrated fluid stream of oil while on the outside
(2) Is the clear concentrated fluid stream of water. This is the Voraxial Bulk Separation Process
No Pressure Drop
The Voraxial® is a unique, patented in-line turbo-separator that provides a cost effective method to efficiently separate large volumes of solids and liquids with different specific gravities and without the need of a pressure drop.
Small Foot Print
The Voraxial® provides highly efficient bulk separation while requiring less space, energy and weight than conventional separators processing the same volume.
Ease of Use
The Voraxial® can efficiently handle fluctuations in flow rate and oil concentrations without any adjustments, allowing for ease of installation and operation.

Large Volumes / Energy Efficients
This superior separation is achieved in real-time, and in much greater volumes, with a more compact and energy efficient machine than any product on the market today.


Multiple Industry Uses

Separates 3 Components Simultaneously

Oil/water separation
Liquid/solid separation
Liquid/liquid/solid separation
Compact Unit – Small Footprint–
Scaleable Voraxial® Models:
1000 Separator – 1-5 gpm
2000 Separator – 20-60gpm
4000 Separator – 100-500gpm
8000 Separator – 1000-5000gpm


4000 Slideshow plus Voraxial® Units for:
Oil & Gas Exploration and Production
Oil Spill Products
Larger Views of Voraxial® Systems